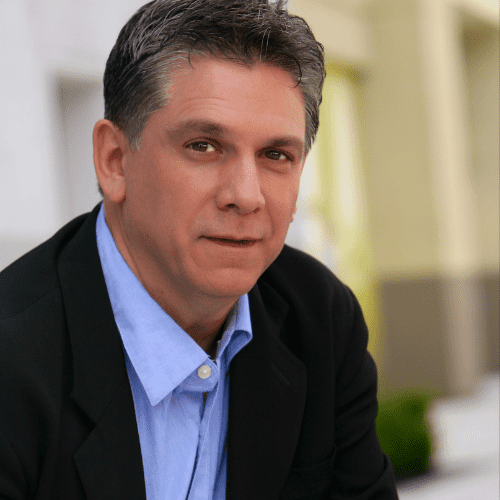 Dr. Rios is a Communication Skills Development Coach and Educator with a passion for the English language. He is also a committed advocate for entrepreneurship as a tool for personal growth, empowerment and social good. He has been coaching and training global executives to speak with clear intention and vision and to build lasting professional relationships for over 25 years.

Dr. Rios is a veteran facilitator, experienced at customizing and conducting training for Fortune 500 companies globally on topics such as Leadership Theory and Practice, People Management, Employee Relations, Conflict Resolution, Customer Service, Managing Up, DEI and Values Based Communication. His unique approach to corporate Learning and Development emphasizes how cultural values define us, how we engage with the world and concrete steps for leveraging diverse perspectives for the benefit of all.

After completing a BA at the University of California in Spanish Literature, and a year of study at the Universidad Complutense, Madrid, Dr. Rios moved to Europe where he furthered his studies in language and literature in France and Germany. Upon returning to the United States, he earned an MA in International Relations and Economic Development at the Middlebury Institute. He was Lecturer at the Foreign Trade Institute in Shanghai and the Institute of Technology MARA in Kuala Lumpur for four years where he designed specific purpose English courses for graduate students preparing them for overseas assignments. He went on to co-found an English language institute in Tokyo before returning to California where he completed his PhD at Stanford University in International Comparative Education and the Anthropology of Communication.

For 12 years he was Education Director of a 9000-student school district in Silicon Valley where, with an international team, he transformed how the district's faculty of 400 teachers taught the core curriculum to foreign born, multicultural and multilingual learners.

He is currently APEC Lead facilitator for the Columbia Business School's Venture for All entrepreneurship program in Asia and is helping roll out and implement a Diversity and EQ program for the Chicago School of Psychology in 2023. He has just completed his tenure as Pedagogy Lead with Google AI Research in human and machine learning.